One can sometimes tell how good a golf player is by just looking at his golf bag and how it's organized. Knowing how to do it properly reflects your professionalism and shows other golfers that you mean business. That means you should have proper golf bag organization skills and if you have a Titleist hybrid 14-slot golf bag, this guide will help you a lot.
For anyone that owns a Titleist 14-slot golf bag, the best way to organize the golf club bag includes the following steps:
Start with a clean bag
Add the woods in the top slots
Adding the short irons in middle slots
Add the long irons in lower slots
Lastly, add the putters and wedges in the bottom slots
Finish by adding your golf accessories
How Many Clubs in Your Golf Bag Capable of Holding?
The easiest way to answer this question is simply by looking at the name of the bag. Being a 14-club golf bag means you can place up to 14 clubs in it. However, that may be a bit too much clutter, so organizing them properly is extremely important here.
Carrying extra clubs that you are not going to use while playing is not a good idea. While learners may need to carry everything to tackle different situations, a regular player can see the course they are heading to and decide which clubs they will need. This would make organizing easy and reduce the clutter.
Of course, clubs are not the only thing that your golf club bag will be carrying, so utilizing the space to add other items is important. Zippered pockets on the golf bag are a great place for holding your golf balls. These not only keep the balls separate, but they also provide safety for the balls. You can also use the zippers to hold your tees. The best thing about zippered pockets is that they provide quick access to your gear.
Given the large storage space available, you might also want to utilize it for carrying other essentials like your snacks or beverages. Of course, on a hot day, you might want to take a cart along and keep your drinks in an insulated cooler.
The Titleist 14-slot golf bags also offer external storage where you can keep other things like hiking sticks or even umbrellas if needed. Some people also like to keep extra clothing, so the apparel pocket comes in handy for that.
Now let us dive in. Please note that each step needs to be followed precisely if you want a golf club bag that looks clean, organized, and clutter-free.
Remove All the Clubs from Your Bag
You cannot achieve a truly clean look on your organized golf bag until you have a clean start. That means removing everything that is present in your golf bag, starting with the clubs, of course. Take all your golf clubs out and then line them up with similar clubs put together.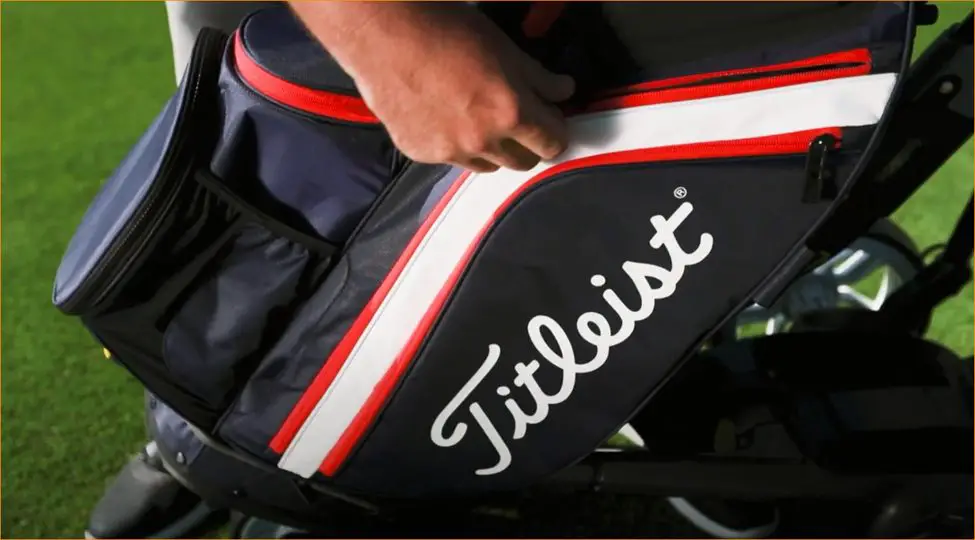 Removing everything is about more than just starting with a clean slate. Having your golf bag completely empty also means that you can visualize the space that you have available and then use it wisely. Furthermore, it will also help you get rid of anything extra that you may be holding in your bag, stuff that you probably do not need to carry around at all.
Once the golf bag is empty, you can move on to the next step.
Removing Additional Equipment Present in Your Bag
If you have been using your bag for a while or if it is not a new one, there are chances that you have other equipment in it as well besides the golf clubs. This can be any number of things including balls, tees, retrievers, and others. Some people also like to pack other materials like clothing, towels, and even snacks.
If you have anything like that or other stuff sitting in your organized golf bag, this is your opportunity to organize and clean as well. After all, when doing a fresh packing job, you need to start from scratch to completely clean and organize.
After you are done with this step, your bag should be completely empty and should not contain any golfing equipment and accessories or other additional material inside it. Of course, this step is only for the used and personalized bags and if you have just bought a new one then you can skip this step completely. Now that everything is out, let us start putting the clubs and other items back in properly.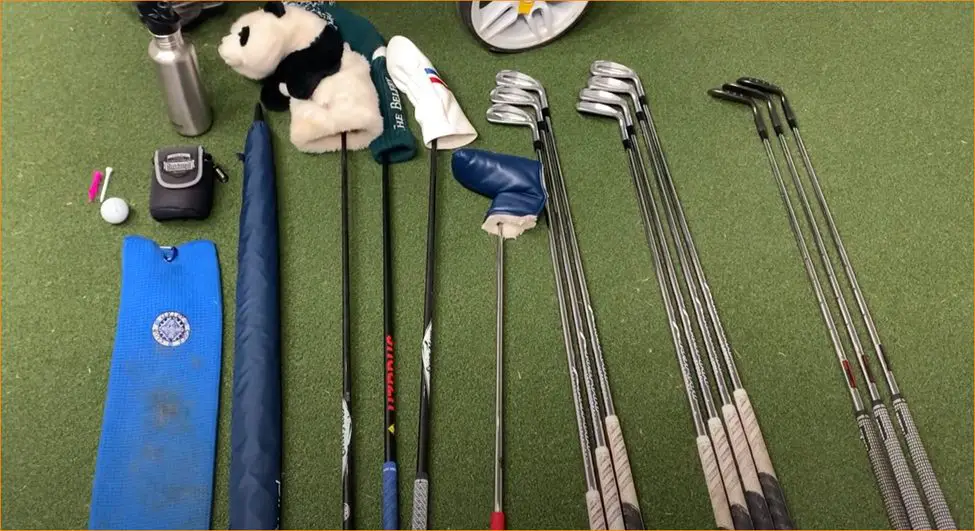 Start off With the Woods
Now that it is time to put all the clubs back into your golf bag, the first type of club you need in your golf bag club layout is the wood. These clubs should come at the top of the bag, considering that you would be using them first.
The Titleist 14 slot bag comes with individual pockets where you can put all your clubs. The setting being shown here might be different from what you have seen originally but this way works through logic. The target here is to have all the clubs facing you and be recognizable immediately. (1)
One thing that is usually suggested here is to add your standard ball retrievers to the same pockets as well for easy access. Now that the woods are all in place, it is time to sort the irons.
Short Irons Go Next in the Bag
The next type of club in your golf bag club layout is the short irons. These come in the next row of pockets and would have their heads protruding out underneath the woods. You can add 3-4 irons in your Titleist hybrid golf bag, and these could be the irons numbered between 6 and 9.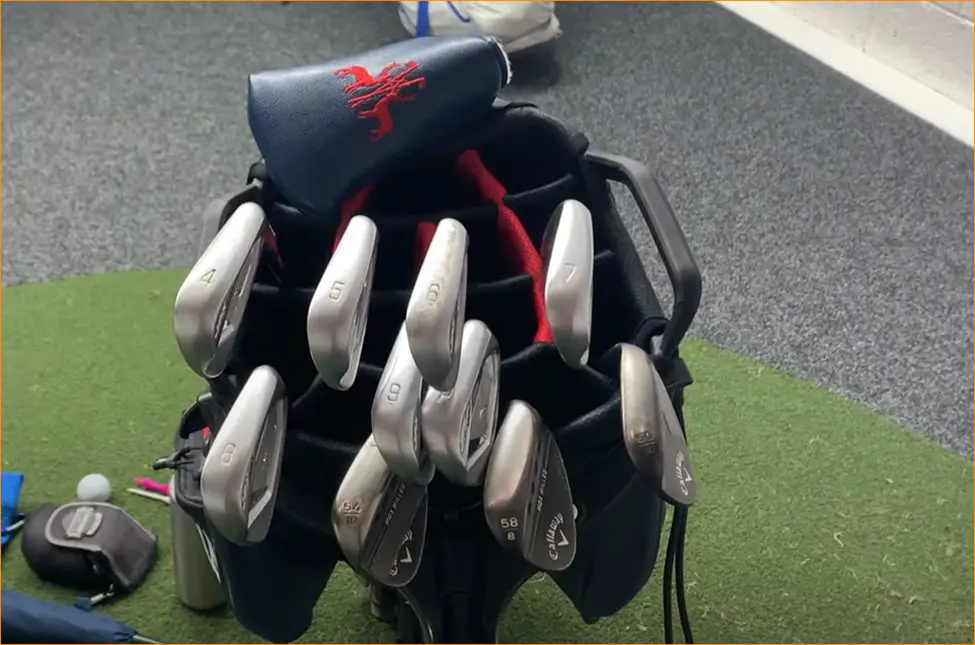 The pockets can be in front of the woods or on the sides depending on the model like the Titleist hybrid stand bag. The point is to make sure that you add the irons in a way that they are clearly visible to you when you look at the bag.
Next Up is the Long Irons
Now that you have both the woods and the short irons placed in your golf bag, the next step in your golf bag club order would be to add your long irons. The slots for these would be on the left side of your bag, opposite the short irons. You can also check for the lengths of the pockets to determine which is which in your specific model like the Titleist hybrid stand bag.
Just like short irons, the bag should have slots for up to four long irons meaning you could add your irons between sizes 2 and 5 in these slots. A simple fit test will let you know if you are adding them on the right size as they have a different size when compared to short irons.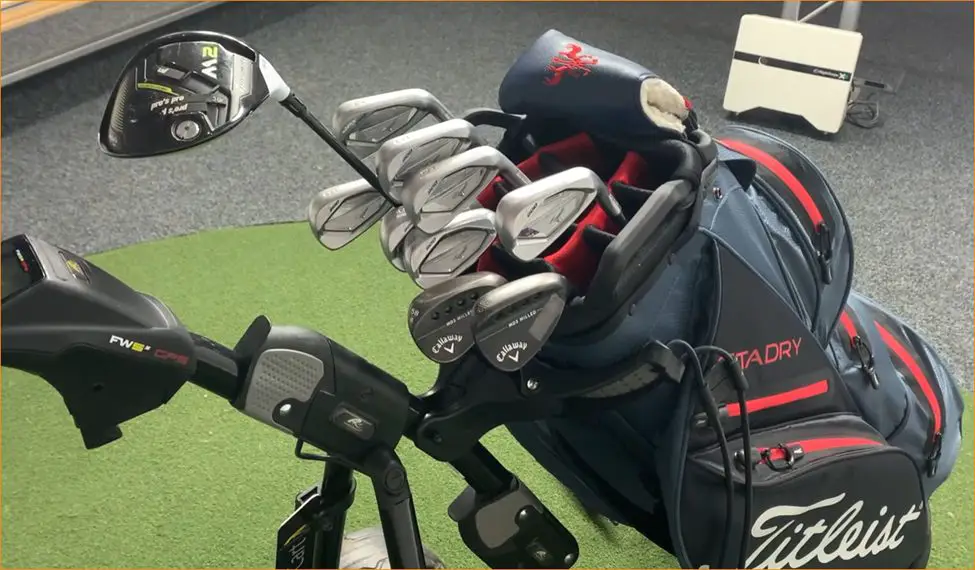 Wedges and Putter Are the Only Ones Remaining
Now that you have most of your clubs in, the only two clubs left in your golf bag club order are the putter and the wedges. The bottom slots on your golf bag are the best place to put these. Being at the bottom is especially preferred for putters as that can provide easy access. After all, that is the biggest reason for putting in all this effort.
Wedges are a highly personal choice as each golfer has their own preference on the number of wedges they want. While a lot of them make do with just a single wedge, you can also do two wedges if you need them.
Finish Off with Golfing Accessories
Now that all your clubs are in place, you can add all the additional things you need to your golf bag. The first thing you would be adding is your golf balls and you can put these in a dedicated side pocket. The separate pocket will keep the balls safe and make it easy to carry them instead of bringing them along separately.
As for the other storage compartments, you can use them to hold other accessories like towels, sunscreen, markers, tees, insect repellents, and even things like umbrellas for rainy days. When on the field, you will certainly feel thirsty and hungry, so throw your snacks in here and beverages in their dedicated outer slots. (2)
Now that you know exactly how to organize a Titleist 14-slot golf bag, you can go to the club looking like a pro.
Take a look at some of our related articles below.
---


References
(1) logic – https://press.rebus.community/intro-to-phil-logic/chapter/chapter-1/
(2) sunscreen – https://www.webmd.com/drugs/2/drug-366/sunscreen-topical/details