Whether you want to get your golf cart to the golf course or the local mechanic, towing it on a trailer is the easiest and fastest way.
In this article, we will share important tips on how to tow a golf cart easily and seamlessly. Let's get right into the details.
Easiest Way to Tow a Golf Cart: Step-by-Step Guide
Are you looking for an easy and quick way to tow your golf cart? Follow the steps highlighted below:
Step 1: Using a ball receiver, attach the trailer to the towing vehicle
Step 2: Secure the ball receiver with the latch and keep the trailer from falling when you get on the highway.
Step 3: Next, attach the wiring harness carefully to the hitch and open the trailer game. Place the ramp at the edge and ensure the trailer is on the "Park" mode also known as the golf cart tow mode.
Step 4: Push or drive the golf cart right into the trailer and secure it with tie-down straps or harnesses on the trailer.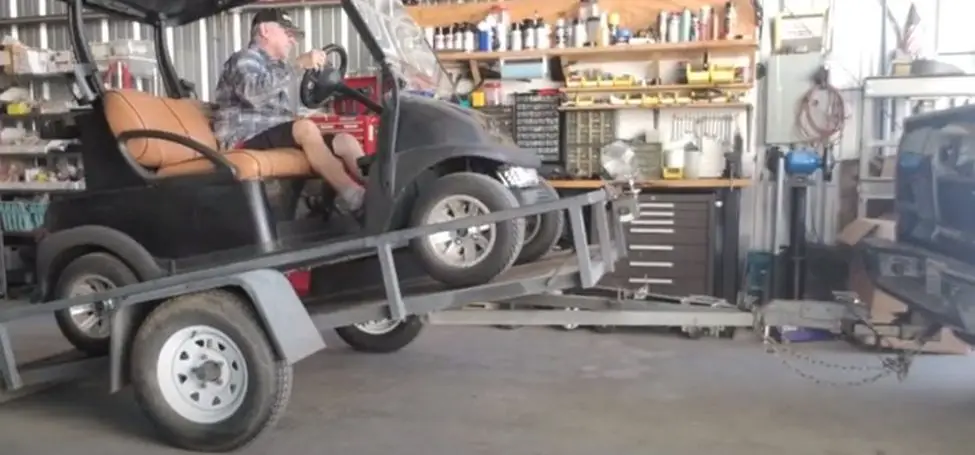 Step 5: Use a strap to secure your golf cart's roof in place, if it has one, and remove the ramp.
Step 6: Close the trailer gate and lock it and then get on the road to your destination.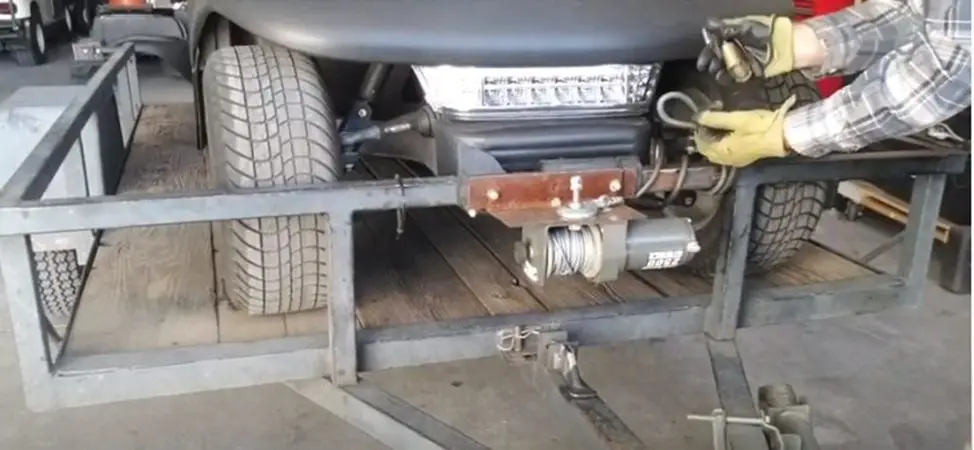 What is Tow Mode on a Golf Cart?
Golf cart tow mode is a mechanism that manufacturers install on a golf cart that users can enable when they want to tow their cart or work on the electronics. (1)
It deactivates the system that cuts voltage-sensitive electronics and other roll-away functions to enable the brakes for towing. (2)
To activate the tow golf cart mode, you have to use the tow run switch, also known as the maintenance/tow switch. It is worth mentioning that the tow switch is mostly found on modern golf carts and rarely on older models.
Should you take the Windshield off your Golf Cart?
Golf cart windshields can snap or break during movement from one location to another.
Not only is this bad for the golf cart, but the windshield can also fly out and drop on the highway, which can pose hazards to other road users. Therefore, you should consider removing the windshield on your golf cart when towing it.
Thankfully, some modern carts come with foldable windshields, which means you can remove them while transporting your golf cart to another place. You can then replace it when you get to your destination. You can also remove it and safely store it until you arrive. Or at a minimum have it facing forward when towing.
Wrapping Up
Towing a golf cart is pretty easy and fast, even if you have not done it before. You only need to master the process and you can tow your cart without any help. Apart from a trailer, you can use other options to tow your cart, including two dollies and tow bars. However, an enclosed trailer is the easiest and safest way to tow a golf cart.
Take a look at some of our related articles below.
---


References
(1) mechanism – https://plato.stanford.edu/entries/science-mechanisms/
(2) electronics – https://www.britannica.com/technology/electronics
Video Reference